Easy to put together! 95% of the bike is assembled, leaving only 4 steps to install the training wheels, pedals, handlebar and saddle. Save your headache to install the front wheel and brake compared with 85% bikes. Assembly tools and an easy-to-follow instructions are included.
Safer riding! The never-bent training wheels are super sturdy and stable for its Royalbaby-patented one-piece triangle structure; Front caliper brake and rear band brake offer double insurance to keep your kid safe. Tires have a big effect on comfort. Royalbaby Wide 2.4" pneumatic tires and 1. 2mm bike steel tubes thickness. add more stability; Full chain-guard prevents the chain from entrapping or soiling rider's trouser leg or clothing;
Easier to Ride! Your little ones will enjoy a smoother ride with Royalbaby patented sealed bearing since 2019; Royalbaby exclusive brake lever allows little riders brake efficiently, as the grip dimensions are shortened by 10% to fit a kid's strength.

Thoughtfully designed for various kids. Coming in 7 bright colors, there's a Royalbaby bike for every kid. The water bottle and bell add extra fun to the ride. The seat comes with a handle, which makes the bike easier to grab during teaching or loading.
Various Size Options for every kid. 12, 14, 16, 18, 20 inch available, handlebars and seat height are all adjustable. Use our easy-to-follow size chart, you'll find a perfect size for your little beloved.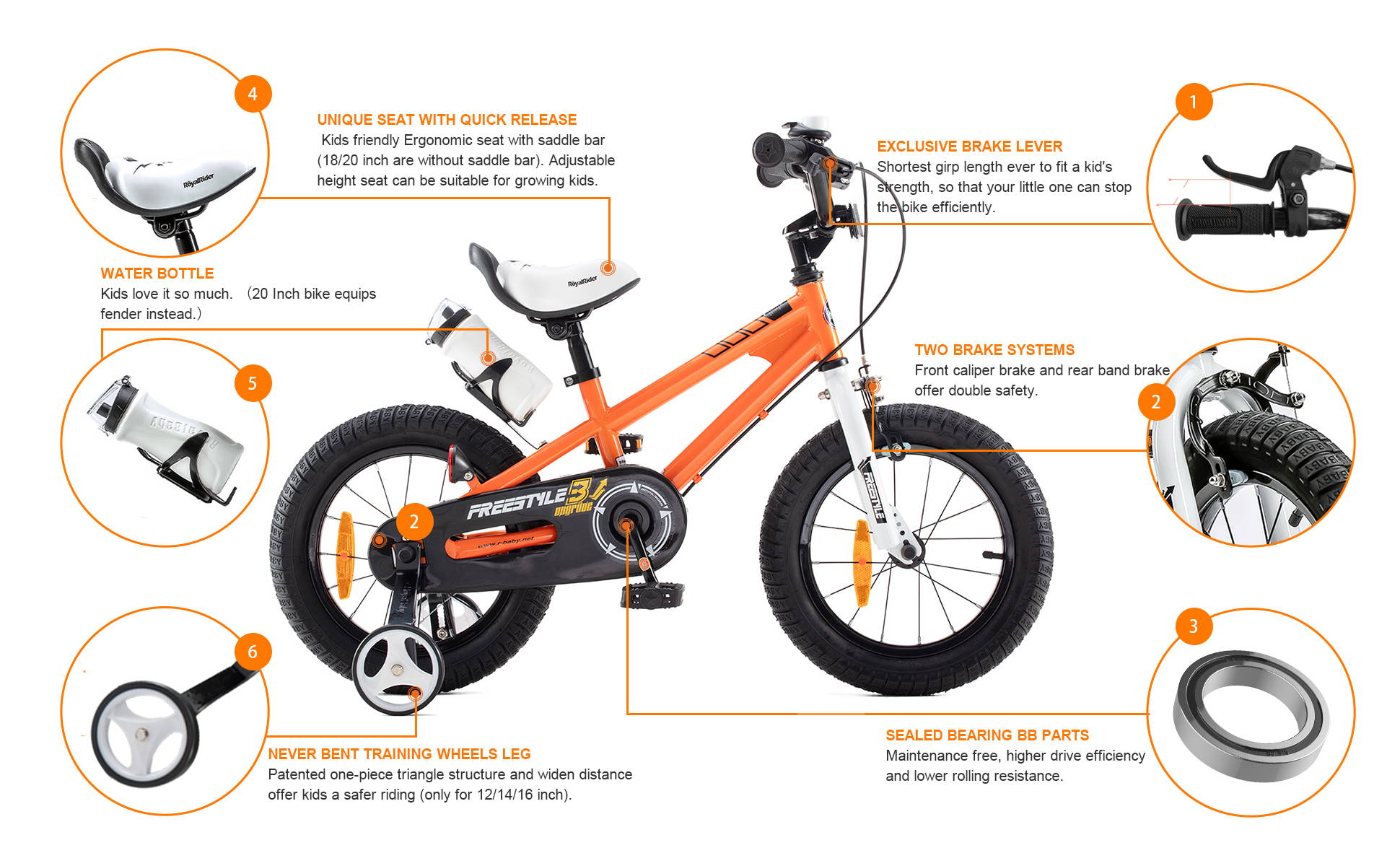 Size:
12 inch
14 inch
16 inch
18 inch
20 inch

Handlaber Height Range
(Approx)

26.3~27.9 inch /

67~71 cm

27.5~29.1 inch /

70~74 cm

29.1~31.9 inch /

74~81 cm

31.9~34.3 inch /

81~87 cm

Seat/Saddle Height Range
(Approx.)

18.5~21.6 inch /

47~55 cm

20~23.1 inch /

51~58.5 cm

Bigger Saddle to fit big

kid's buttocks

Bigger Saddle to fit big

kid's buttocks

Water Bottle Holder &

Water Bottle
---
Back in college, I used to work in a bike shop that sold low-mid price bicycles. I spent a lot of time assembling and repairing them. Lots of times, lower-end bikes had lots of issues: bent parts, untrue wheels, misaligned brakes, etc. I had never heard of the Royal Baby brand before, but after reading other reviews, I decided to get one for my eight year old son. Of course, when it arrived, I gave it my usual thorough walkthrough. Initially, I noticed that the parts seemed to be good quality. Welds were solid and the finish was perfect.

Assembly was just like any other bicycle: pedals, handlebars, seat, accessories. All parts lined up perfectly on the first try. No fighting, no twisting and pulling, none of that. It also comes with some cheap tools to help with assembly, so you don't have to worry about finding a pedal wrench, or the right size metric allen. Once together, I started to look at the mechanics. Tires were very true. There was no noticeable wobble to them, which was abnormal for bikes in the $100-150 range. The brakes were adjusted perfectly. They were centered on the rim and had the perfect amount of pull.

Overall, it seems like a quality bike for the price and I am pleased with the purchase.
---
And last - the assembly was pretty easy - They came mostly assembled already. It took about 15 minutes per bike (Putzing speed) to get everything ready to go. One bike came with the tires ready to go and one bike needed to have the tires inflated before riding.
---
The best first bike. I did a lot of research. As an avid MTB rider I wanted my grandson to learn to ride and hopefully develop the same love of peddle sports that I have. I also wanted him to learn as quickly as possible, I'm hoping he gets to the point that we can ride mountains together while I'm sprite myself. This bike has many feature that build confidence and make learning on it safe and fun. The large tires make it more stable. The handle on the rear of the seat, which is for the teacher to grab, is placed there to create a true center of gravity while learning balance. (Even if you can't afford this bike, when you teach kids to ride, never hold their shoulders, it's not our center of gravity and is counterproductive to learning balance, alway grab lower, in the waist area) The fit and finish of this bike is also very stout, it's a firm foundation, which completes the riding experience. This is, hands down the best first bike you can find.
1.Which size should I get for my 2/3/4/5/6/7/8 year old?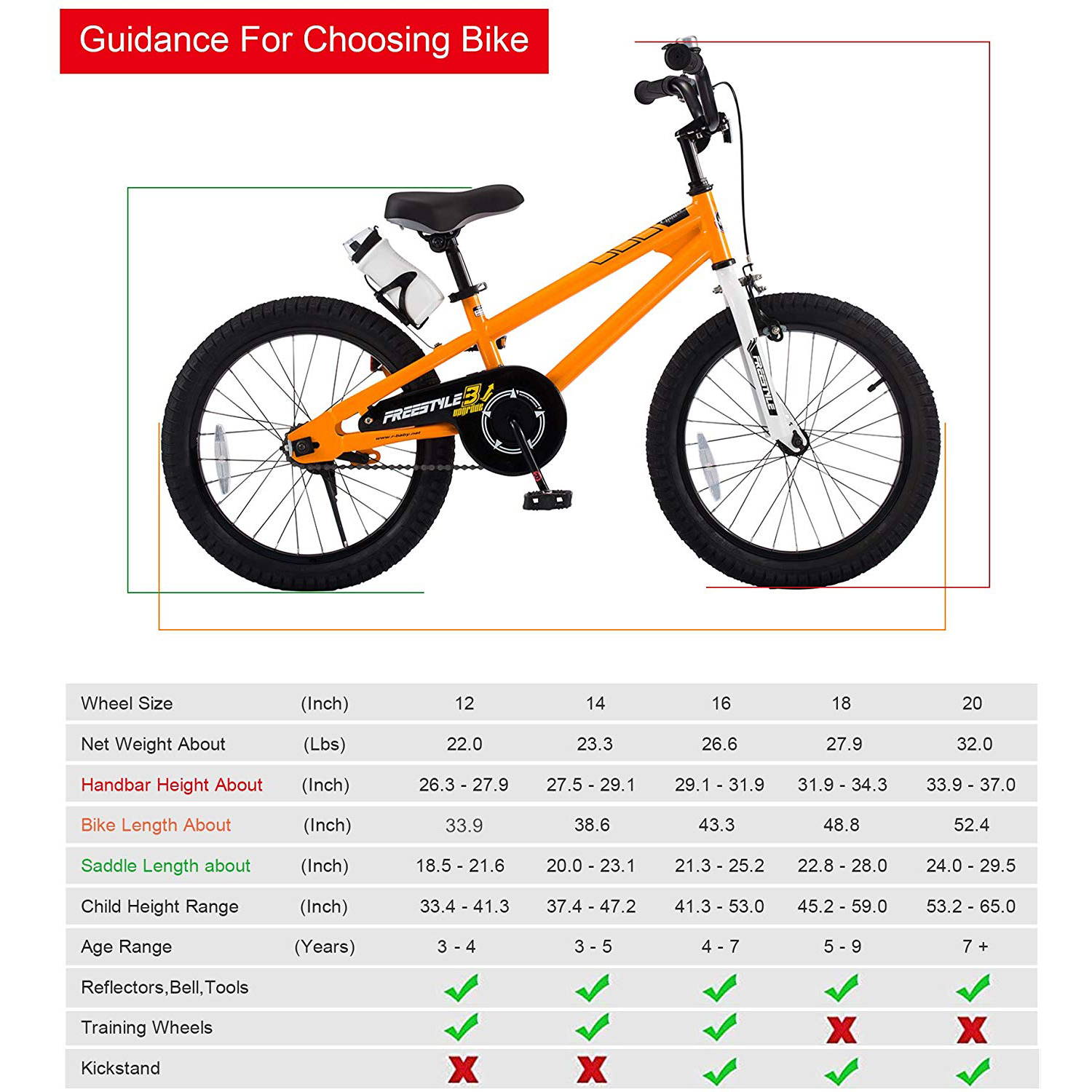 To get the right size, you need to measure your child's height and inseam , then check our size chart.
If your measurements fall in two sizes on the chart above, the bigger size will last longer, but he/she might not touch the ground at the very beginning, training wheels is needed during this period. Compare the inseam with the saddle height(adjustable).
However, it will be easier for him/her to learn with a smaller bike, if your little beloved doesn't know how to ride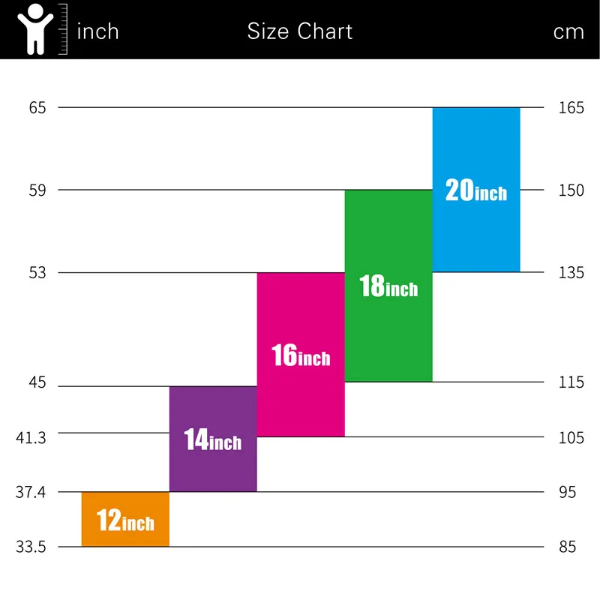 2.How to assemble the bike?
The bike is 95% assembled, it's super easy to put together.
Here is the instruction video, if you met any difficulties with the assembly, pls feel free to contact us on Facebook or by email: service@r-baby.net
3.I'm not sure if the size will fit my girl/boy. What's the return policy?
We accept change of mind returns! You can also contact us to arrange an exchange
In order to be eligible for a refund, you have to return the Royalbaby item within 30 calendar days of your purchase.